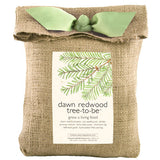 Dawn Redwood Tree to Be Kit
Dawn Redwood (Metasequoia glyptostroboides) Known only as a fossil until 1946 when a Chinese forester discovered the first living specimen in the middle of a rice paddy in Tsang Wang. It was named the discovery tree and symbolizes the surprises still to be found in nature.

Includes: tree seed, coir seedling pot, soil-less growing medium, terra cotta saucer, aluminum tag, hydrocarbon free jute bag, directions.


Dimensions

9.5 x 8.5
Made in USA