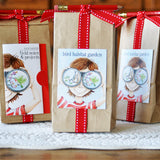 Scatter Garden Kits
Make your backyard an exciting place to explore with these wonderful habitat gardens! Attract honey bees, birds, and butterflies, this spring by giving them just the flowers and plants they crave.


Wildflowers filled with sweet nectar will delight traveling songbirds and hummingbirds, while brightly colored varietals bring the butterflies to you and fill your garden with wild beauty.
These kits even come with a pocket field guide and pencil to write down all the amazing things your little explorer observes from planting to bird, flower, bee, and butterfly enjoyment. The Scatter Gardens make wonderful gardening gifts.

 
Each kit covers 100-125 square feet and includes seed, field guide notes, and growing instructions.

Made in the USA