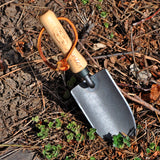 Kids Steel Garden Hand Tools
Dewitt is know for making the World's Best Gardening Tools!
Start them off right! Sharing gardening basics with children is a great way to spend quality time and give them lifelong appreciation of the importance of gardening.
"Junior" tools from DeWit are just the right size for small hands, making it easy and fun to include the little ones in all aspects of gardening. Due to the quality and sharpness of these tools, we would recommend them for ages 8 and up.
These are handmade in Holland and are guaranteed a lifetime. And our new "Junior" tools are not just for kids.  The size of these tools makes them a great option for Seniors or for gardeners who prefer smaller tools.
Each measure about 2.3 in x 8.6 in

Imported
Age 8+