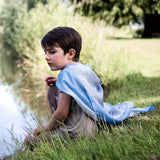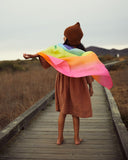 Earth Playsilks
Earth playsilks inspire imagination play! They are designed for children to play with, in ways, that care for Mother Earth.
Children use them as the ocean for a sailboat, the desert as sand on a beach for a camping trip, forest as trees, stone for rock climbing, and so much more!
The silks are dyed with non-toxic, eco-friendly dyes and have been safety tested for children 3+. Hand wash/hang dry.