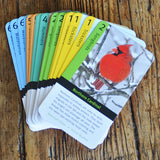 Wild Cards Game and Book
Join in on the birding fun with this wonderful Wild Cards Game and Book. Learn about these amazing birds as you play "Memory", "Old Maid" and "Go Fish" and discover fun facts about each of them.

Created in association with the Cornell Lab of Ornithology, each game includes 36 playing cards filled with amazing facts and dramatic wildlife photography. This set also includes a great 32-page educational guide for even more learning fun!

Wild Cards
Backyard Birds
wins Parents' Choice Silver Award
Ages 6+