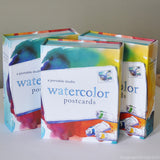 Watercolor Postcard Kit
Perfect for on the go creativity! This deluxe Watercolor Postcard Studio kit contains everything you need to create beautiful watercolor postcards.  including an easy-to-follow instruction booklet containing tips and techniques from watercolor experts Joseph Stoddard and Brenda Swenson.  High-quality brushes, elegant Strathmore postcards, and brilliant paint colors bring your creativity to life.

Bring this compact studio with you to all your favorite places and start painting!

Includes: · 16-page illustrated booklet, 10 Strathmore watercolor postcards,  4 paint tubes (Brilliant Red, Ultramarine Blue, Deep Yellow, Sap Green), 2 brushes , Mixing palette.


Ages 6+