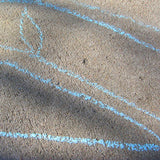 Veggie Sidewalk Chalk
This completely natural Sidewalk Chalk is made with Organic ingredients that are so safe you could even eat them! 
There is
no wheat, no sugar, no preservatives! 
Draw the world of your dreams right on the sidewalk.
Please supervise children at all times. Not intended as food. 
Comes in 5 organic colors: Green, Yellow, Orange, Pink & Purple

Made in the USA



Age 2+