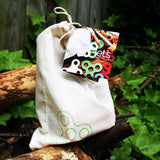 Stick-lets 12pc Fort Kit
Discover the undeniable magic of one of nature's simplest wonders, the stick. When fastened together sticks create structure, which in turn creates one of our favorite childhood pastimes, the fort. This awesome Stick-lets Fort Kit will introduce creative minds to the endless possibilities of constructing with sticks. The flexible connectors provide enough modularity and options to get inventors started. The goal?: To encourage children to go back outside and play!


Let the stick scavenging and fort construction begin!

The Small Fort Kit includes 12 connector pieces and a 6" x 8" natural muslin bag which also acts as your fort flag!

Connectors: 100% Silicone, ROHS Compliant
Packaging: 100% recyclable packaging
Imported
Ages 5+

*Not intended to be put in the mouth or chewed on.