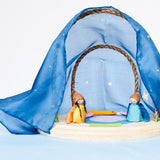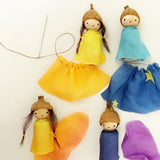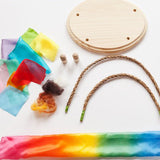 Fairy Playhouse Kit
Make your on little playhouse with our simple kit. Choose rainbow or star. 
And then decorate your two little people to live in your house, with the scraps of silk and wool.
Lots of fun for kids 3 and up! These are also lovely on nature tables. 
Finished house measures 9" by 8"
Kit includes:
wooden base
02 rope arches
20" x 10" mini-silk (choose rainbow or star)
2 wooden peg people
silk and wool scraps
*You provide glue and pens to decorate the people
Age 3+