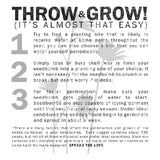 Seedbombs
Bring a little green to the gray spaces around you! Made from a mixture of clay, compost, and seeds, Seedbombs are a great way to combat the many forgotten gray spaces you encounter everyday: from sidewalk cracks, to vacant lots and parking media

ns or your own backyard.



Anonymously toss one into a vacant lot, a crack in the sidewalk, or take a whole new approach to planting your own garden. Available in many regional varieties!

P.S. Our favorite way to toss a Seedbomb? Slingshot...