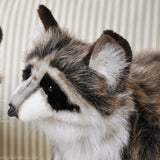 Hansa Raccoon Standing
The raccoon originally comes from forested regions, but due to their adaptability raccoons have extended their range to mountainous areas, coastal marshes, and even urban areas! Individually hand crafted, true to life.
Every Hansa toy comes with a "Toys That Teach" tag, which describes each animal's habitat, lifestyle, gestation period, care of young, and eating habits. Start collecting these finely crafted pieces and help educate our children to appreciate and understand the importance of our co-existence with the wondrous animal world.
Dimensions: 17.5 x 5.85 x 11.7 inches

Imported



Age 3+