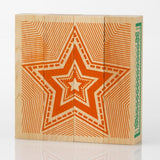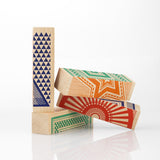 Puzzled Blocks: Shapes
Help little ones strengthen their vocabulary, hand eye coordination, and color recognition with these fun four sided Puzzled Blocks.
Each side of these engaging puzzles features a vocabulary word and a matching graphic. When your child is done arranging the sides and practicing words, the puzzle transforms from teaching tool to a piece of eye-catching decor that can be stacked and displayed in a variety of ways.
Made in America

Overall size is 5 x 5 x 1.25 inches

 Ages 1+