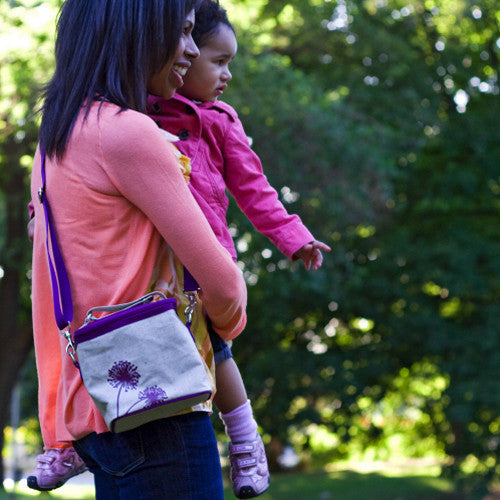 Purple Dandelion Cooler Lunch Bag
Just the right size for little ones to carry their own food or drinks on whatever adventures you may be on, this Small Cooler Bag makes a great lunch bag for school too!

Note to parents: Can also be used as a bottle bag for baby, or a bag for you! Need an extra hand? These versatile bags can be snapped onto stroller handlebars or worn in either messenger or backpack style.

Also comes with a leak proof insulated insert for easy cleaning and to help avoid staining from spills. Extra back pocket for cutlery, napkins, or artwork .
Made from Eco-Linen

PVC, Pthalate, and BPA-Free

Machine Washable, Dishwasher Safe, and Quick Dry

Measures: 4.5"W x 7"H x 7.5"D

Ages 3+