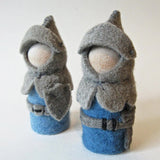 Peg Doll Knights Kit
This is a complete box set kit which makes two wooden peg doll knights in the tunic color of blue.

There is nothing more satisfying than creating hand-made toys for children from all natural materials. This kit provides you with detailed, illustrated directions and templates as well as all the materials necessary to make your very own wooden peg doll knights. All you need are your own scissors and a pen.

The directions include a basic pattern and variations with helmet visor, shield, or sword. The knight's tunic and armor are entirely stitched by hand and can be a great project for adults or able younger children. Have fun customizing your knights by embroidering your child's initials or creating a family symbol for your shield!
Made in the USA
Age: 6+ with Adult Supervision

The boxed kit includes:

2 wooden pegs
Naturally-dyed wool felt
Cotton embroidery floss
Embroidery needle
Printed directions and templates