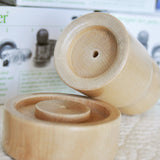 Paper Pot Maker
Put those old newspapers to good use this spring! With just the twist of a wrist newspapers become eco-friendly pots perfect for growing plant starts, pots stay strong even with watering and root growth.

Sustainably made from solid maple, this simple tool is easy to use and made to last (not to mention recyclable).

A perfect activity to get ready for spring!
More on the Way