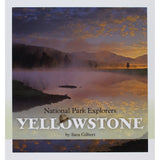 National Park Explorers
Become National Park Explorers and discover the wonders contained in some of America's most popular national parks? Each book highlights landscape features, wildlife, and activities unique to the park, giving times of the year, that are a particularly good time of year to visit. The photographs. captivate the eye and entice each armchair adventurer to hop in the car or catch a plane to experience the park in all its scenic glory. A young explorer's introduction to our National Park, covers, landscape, plants, animals such as prairie dogs, and activities such as fossil hunting. 
Get out there and explore.
Age: 3-6