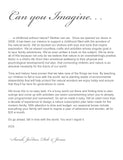 I See: Nature Box Subscription!
It's a busy world out there and finding time to plan outings and come up with activities can seem overwhelming when you're already over-programmed and overworked. So we've made it easy. We've used more than a decade of experience to design a nature subscription plan tailor-made for the modern family. With attention to time and budget, our boxes include everything your family will need to inspire a year of adventure and wonder, all for $35 a month.
So go ahead, fall in love with the world. You won't regret it.
*Not available for International shipping.