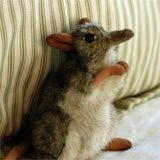 Elephant Mouse
Although this Elephant Mouse (Elephant Shrew), is not common in any location, it is very adaptable.

It can be found in almost any type of habitat, from the Namib Desert, to boulder-strewn outcrops in South Africa, to thick forests. Individually hand crafted, true to life.


Every Hansa toy comes with a "Toys That Teach" tag, which describes each animal's habitat, lifestyle, gestation period, care of young, and eating habits. Start collecting these finely crafted pieces and help educate our children to appreciate and understand the importance of our co-existence with the wondrous animal world.
Dimensions
: 5 x 4 x 6 inches

Imported

Age 3+