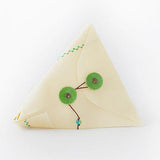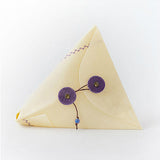 Eco-Snack Pack
This delightful and eco-friendly little Snack Pack is great for veggies, nuts, fruit, granola and more, making it perfect for adventures, picnics, or car rides. Holds approximately a ¾ cup snack serving.

These Snack Packs are handcrafted with an authentic blend of beeswax, tree resin and jojoba oil infused into fabric made of hemp and cotton. The natural attributes of each ingredient used to create the Snack Pack contribute to smart food storage that keeps food fresh and tasting delicious.

Slightly adhesive and malleable at room temperature, the fabric stiffens when cool; holding the form you create. The fluid and air resistant natural coating keeps food fresh and is easy to clean. Simply hand-wash the Snack Pack in COLD water with eco-friendly dish soap and enjoy the long life of this breathable, plastic free innovation.

*Not suitable for the dishwasher, microwave oven, direct heat or high temperatures.