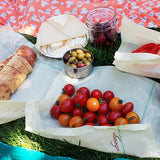 Reusable Beeswax Food Wrap
Explore the versatility of these innovative food wrap sheets by bending and shaping the Flats to suit your individual food storage needs. Simply press and form over dishes to cover leftovers, cheese, form around produce, wrap lunch items, baked goods and more.
Use pressure in combination with the warmth of your hands to form it tightly around the item to be stored. These wraps will be slightly adhesive and malleable at room temperature and will stiffen when cool, holding the shape you created. The fluid and air resistant beeswax coating keeps food fresh and is easy to clean. 
Measurements: 
6 Small Wrap 18 cm x 18 cm 7" x 7"
3 Medium Wrap 25 cm x 25 cm 10" x 10"
2 Large Wrap 33 cm x 33 cm 13" x 13"
Made from: Hemp, Organic Cotton, Beeswax, Tree Resin, Jojoba Oil.