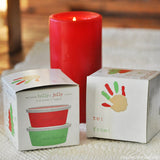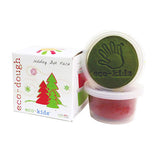 Eco-Dough Holiday 2-Pack
Eco-Dough just got into the spirit of the season! All natural red and green eco-dough is great for making ornaments, and handmade gifts.

Eco-Dough is handmade with flour, salt, cream of tartar, organic rosemary oil, vitamin E oil, soybean oil, coconut oil,  potassium sorbate, citric acid, natural and organic fruit, plant and vegetable extract.
Makes a great Stocking Stuffer or Secret Santa gift!
Our signature eco-dough in two new Holiday colors! All the fun with 2 new colors Holly Green & Jolly Red. Give as a gift or a great stocking stuffer!