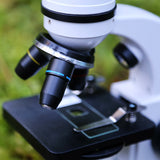 Duo-Scope Study Microscope MFL-26
More on the way! 
Two Microscopes in one!  Specially designed and developed to allow young scientists, ages nine and over, to examine specimens such as Blood Cells or Organ Tissue on real microscope slides, as well as view small solid objects like Plants, Coins and Insects. With its Dual cool LED illumination, the Duo-Scope is two microscopes in one, in that it can function as either a compound microscope, with the light shining up from underneath, for viewing microscope slides, or it can function as a dissecting stereo microscope, where the light shines down from above, for use when observing solid objects. 
The Duo-Scope uses real optical glass lenses that have been specially crafted to provide the user with crystal-clear 40x, 100x, and 400x magnification, to view slides or solid objects through a 10x eyepiece, which also functions as a magnifying glass when removed from the eyepiece tube and turned over.
Includes a laboratory of accessories for hours of scientific research!
Mini Inspector (mini microscope)

Cloth Dust cover

Analyze This! book

Bug block specimens

5 blank slides

1 concavity (well) slide

4 prepared slides

2 bottles of stain

Forceps

Plastic test tube

Plastic Petri dish

And more!
One Year Warranty: The manufacturer warrants each instrument to be free from defects in material and workmanship under normal use. It does not cover damage resulting from abuse or misuse, repairs, or alterations performed by other than authorized repair technicians, or damage occurring in transit.
Dimensions:
19 x 11 14 inches
For 9+