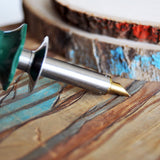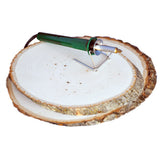 Creative Wood Burning Kit
Once upon a time craftsmen used scalding hot pieces of metal to burn designs in to furniture for decoration. For centuries, the art of wood burning has adorned all types of wooden objects with beautiful and intricate designs. Keep this wonderful and fun tradition alive with our creative wood burning kit.

Reuseable 950 degree wood burning pen with Universal Point featuring on/off switch and Stand
2 Basswood Surfaces
8 Patterns
2 Alphabet/Number Sets
Transfer Paper
Complete instructions for beginners
UL approved for USA and Canada.
Let the creativity begin!
For age 14+ Adult supervision Required
Starts Shipping First Week Of December