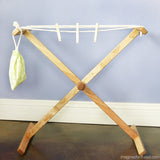 Cherry Wood Drying Stand
It's laundry day! Fold washcloths, towels and doll clothes. Children love to play house, especially when the tools are just their size!
Made from sustainably harvested cherry wood, this Cherry Wood Drying Stand is beautifully made, with a simple wooden bolt to lock the drying stand in an open position during use.
Ages 6+
Made in the USA