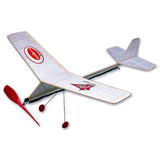 Build-N-Fly Kits
Designed to take a an aspiring pilot or engineer with little to no experience in model airplane building from a basic all balsa glider to a box fuselage, stick & tissue rubber band powered model. Simply start with the Goldwing and work your way to the Fly boy.  These planes are fun to build and great to fly! Great Stem project!

1. Goldwing Wing Span: 11.25"
2. Cadet Wing Span: 14.5"
3. Cloud Buster Wing Span: 17.75"
4. Fly Boy Wing Span: 21"


Warning: Choking Hazard - Small Parts
For age 12+