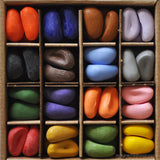 Box of Rocks Crayons
Just Rocks in a box,the Crayon Rocks are made of a soft soy wax and tinted with mineral powders, Crayon Rocks come in vibrant colors and make beautiful textures.
Designed to strengthen the tripod grip muscles, these crayons prepare fingers and hands for handwriting.

Their special shape allows small fingers to color in large, wide strokes, promoting artistic confidence.

Made from renewable soybeans grown in the USA. Colored with natural mineral powders. Conforms to ASTM D 4236


Includes 64 colorful crayons in a Eco cardboard box,16 colors total.
Warning: Choking Hazard - Small Parts
Not for children under 3