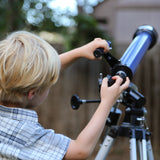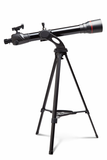 Konus Refracting Telescope
New Models!
Explore the beauty of the night sky with this amazing refractor telescope!
#1755:
The #1755 model will provide excellent results for both the astronomical and terrestrial observations and will make for an immersive and rewarding experience by virtue of their special Smartphone adapter. Universal Smartphone adapter included: use your smartphone for taking pictures and recording videos! This model is the ideal choice for beginners. It's easy to assemble and will deliver great performance while observing stars, planets, and the moon.
Technical Specifications:
70 (2.75") F. 800
Altazimuth mount
Metal tube with collimated lenses
Sturdy adjustable metal tripod (from 78cm to 121cm - from 2.5ft to 3.9ft) with accessory tray
"Stardot" electronic red dot finderscope
Universal adapter for smartphones
Two 31.8mm eyepieces: H8 and H20
Moon filter
2x Barlow lens 
45° Diagonal Mirror
1.5x Erecting eyepiece
#1738:
Suitable for both astronomical and terrestrial view, the # 1738 telescope is now offered in a new configuration that features a special universal adapter that will turn your Smartphone into an astronomical camera (for taking pictures and recording videos) and a star map (for locating celestial objects in the sky). This model also comes with a deluxe carrying case for enhanced portability and with a R.A. motor drive.
Technical Features include:
Collimated and intubated optics, equatorial mount with R.A. tracking motor, two-section metal tripod from 67 to 107 cm. (2.3ft to 3.8ft), red dot finder, moon filter, 2x Barlow lens, 1.5x image rectifier eyepieces H8 and H20, moon and sky map, instructions.
Magnifications: 113x, 226x 45x, 90x
Focal Length: 900 mm f/15
Refractor Ø 60 mm (2.3")
These items ships separately via UPS and is not available for gift wrap. 
Requires an additional 2-3 days for shipping. Returns only for unopened boxes with a 15% restocking fee.