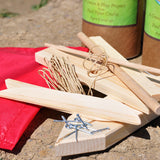 Sailboat Building Kit
Sail the seven seas... or your local pond. This delightful Sailboat Building Kit is the perfect project to encourage adventures outdoors and in.

Quality materials make a very sturdy toy boat with nylon rip stock sail that will hold up to voyages in puddles, ponds and bathtubs!

Kit includes wood pieces, sail, nails and eye hooks.

Age 6+
Shipping First Week of December