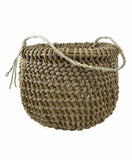 DIY Foraging Basket Kit
Learn to twine a basket!
Then use to gather your wild edibles in the forest.
Twining is one of the earliest methods of basket making. Twining styles, materials and decorative motifs vary by region.
Open twining, as taught in this kit, is common among many cultures worldwide and in North America.
Our kit includes: fiber rush, hemp twine and color photo instructions
You will need: scissors, ruler, fork
Kit makes one 7" basket
Ages 12 and up, adult participation necessary for younger ages
Made in USA