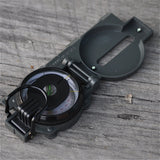 Classic Lensatic Sighting Compass
When Einstein was a boy of four or five years old he experienced something that would change his life forever; the magnetic needle of a simple compass. Witnessing the invisible force convinced him that there had to be "something behind things, something deeply hidden" and this set him off on his life's work.


Introduce your child to the magic of the world with this heavy-duty classic sighting compass. The long-straight side allows for easy use with a map. This compass is liquid dampened and features luminous points.
Lifetime Warranty