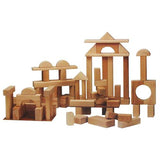 68 Piece Deluxe Maple Block Set
Imagination starts here! These heirloom quality hardwood maple blocks will last a lifetime. Building with blocks, children learn basic number concepts and logic skills. When you give children blocks, you're giving them tools to build their minds. This set comes with 68 blocks in 12 different shapes: 10-half units, 10-units, 2-double units, 10-half pillars, 8-pillars, 4-double pillars, 6-columns, 4-Roman arches, 4-half circles, 4-small triangles, 4-double flats, and 2-roof boards.

Made from sustainably harvested northern hardwood, a renewable domestic resource. Non toxic finish.

Made in the USA for

Age 1+

This item ships separately via UPS and is not available for gift wrap.
Requires an additional 2-3 days for shipping.